Clyne Golf Club has a very active Ladies Section with over 60 lady members, many of whom play on a regular basis.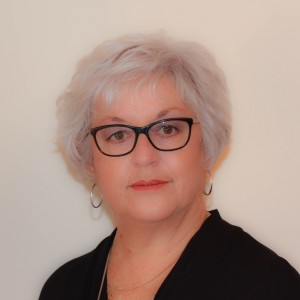 Working ladies  are integral to our section and we ensure they play a full part by setting up alternate day competitions for them at weekends with reserved tee times.  The results of these competitions are amalgamated with our weekday comps to determine the overall positions.  Our league teams also play home matches on a Saturday afternoon to enable working ladies to participate as fully as possible.
In 2010, the members voted for 'equality' so men and ladies now have the same rights of access to the course as well as election to the Management Committee.  In 2012, Mrs Gaynor Fryer was elected as the first lady to captain the Club.
The Ladies Captain for 2018/19 is Mrs Lynda Lewis (pictured right).
Clyne can boast lady members holding prestigious positions at county and national levels. Indeed, the first Golf Union Wales president was a Lady member at Clyne.  Over the years, many Clyne Ladies have taken up regional and national golf related posts including President of the Welsh Golfing Union (the precursor to the current GUW), President of Golf Union Wales, Director of Golf Union Wales, Chair of the Clubs Services Committee, Glamorgan County Captain, Glamorgan County President and County Selector.  On the playing side, Clyne has also been represented on the County Ladies 1st  and 2nd Teams with a couple of our lady members currently in both these Glamorgan County Squads.  Clyne has also had representatives in the Girls' Junior Welsh Squad.
Our weekly competitions are held on Tuesdays where the Ladies Committee organises a mix of competitive and social golf.  We run many qualifying competitions each season where ladies compete for trophies.  These are interspersed with some fun non-qualifying competitions as well as 9-hole handicap maintenance competitions. Clyne currently fields 3 teams in the Glamorgan & Monmouthshire Ladies County League as well as annually fielding a team for the Ladies Welsh Team Championships.  For those who prefer non-competitive golf, Clyne also arranges a series of friendly matches against other local clubs on a home and away basis; these matches are open to ladies not playing in the league teams.
2018/19 dates for your diaries:
Tues 11 Dec
Mulled wine & minced pies
Tues 5th February
Quiz and Curry night
Tues 26th March
Florida scramble and start of season dinner
Wed w9th May
Ladies Open Day
Sun/Mon 9-10 June
Ladies Away Overnight Stay –  Bryn Meadow Golf Club
Tues 17th June
Ladies Ascot day – Charity
Sat-Sun 22 – 30 June
OPEN WEEK
Tues 30th July
Lady Captain's Day
Mon 12th August
Away day – Southerndown
Wed 25th September
Coffee morning
Ladies AGM and Prize Giving November 2018
We were delighted to see over 40 lady members braving the wet and cold to attend the annual Ladies Section AGM & Prize Giving.  Well done to all our competition winners (including some serial winners!!).  A big thank you to our outgoing Lady Captain Emily Hudson and her committee for their sterling effort this year and a very warm welcome to incoming Lady Captain Pam Taylor and her new committee.  We hope you have a wonderful captaincy year in 2019.  A welcome too to our new committee members Judith Godsall and Yvonne O'Driscoll.
Included are the Ladies Social events for 2018/19 together with team fixtures.
Announcements will only be made once a month, on the first Tuesday of the month
Ladies League Matches  2019
Thu 11 April 2019    12pm    Neath 3 Away 2nd Team




Wed 24 April 2019 2:30pm The Grove Home 3rd Team




Mon 29 April 2019 2pm Pennard 3 Away 2nd Team




Thu 02 May 2019 4pm Neath Away 1st Team




Sat 04 May 2019 3pm Pennard 3 Home 2nd Team




Thu 09 May 2019 4pm Pontardawe 3 Away 2nd Team




Wed 15 May 2019 2:30pm St. Mary's Home 3rd Team




Sat 18 May 2019 3pm Pontardawe Away 1st Team




Mon 20 May 2019 1:30pm The Mond Away 3rd Team




Wed 22 May 2019 10.3 Royal Porthcawl Away 2nd Team




Sun 02 June 2019 11am Coed y Mwstwr Away 3rd Team




Mon 10 June 2019 2pm Glamorganshire Away 1st Team




Thu 13 June 2019 3pm Fairwood Park 2 Away 2nd Team




Fri 14 June 2019 2:30pm The Mond Home 3rd Team




Sat 15 June 2019 3pm Gower Home 1st Team




Sun 23 June 2019 2pm St. Mary's Away 3rd Team




Sat 06 July 2019 3pm Cottrell Park Home 1st Team




Sun 07 July 2019 11am Langland Away 3rd Team




Tue 09 July 2019 4pm Cottrell Park Away 1st Team




Sat 13 July 2019 3pm Pontardawe 3 Home 2nd Team




Sat 20 July 2019 3pm Royal Porthcawl Home 2nd Team




Sat 27 July 2019 3pm Neath 3 Home 2nd Team




Wed 31 July 2019 2pm Langland Home 3rd Team




Sat 03 August 2019 3pm Fairwood Park 2 Home 2nd Team




Sat 10 August 2019 3pm Neath Home 1st Team




Wed 14 August 2019 2:30pm Coed y Mwstwr Home 3rd Team




Thu 22 August 2019 3:30pm Gower Away 1st Team




Thu 22 August 2019 1:30pm The Grove Away 3rd Team




Sat 07 September 2019 3pm Pontardawe Home 1st Team




Sat 14 September 2019 2pm Glamorganshire Home 1st Team
Clyne Ladies team preparing to play Cradoc at Pontardawe Golf Club in Wales Team Championships 5 May 2018.
two-thirds-first]
[o
Senior Ladies Away Day at Mond Valley GC 5 September. Fantastic company, golf & weather.
ne-third last="true"]
[/one-third]