Clyne Golf Club has an active social calendar with a variety of events throughout the year.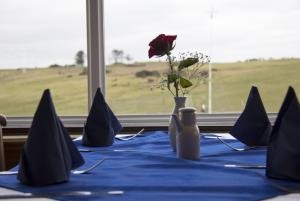 Social membership is only £20 per year and it enables Social Members to use the clubhouse facilities all year round.  These include the coffee lounge, free wi-fi, bar and restaurant facilities as well as all social activities and events which are held at the club.  Social members also receive a bar card which gives members 20% discount on all drinks purchased from the bar.
You will also be able to book the clubhouse restaurant facilities to organise your private celebratory functions, eg weddings, anniversaries, birthdays, Christmas celebrations, christenings etc.
For further details on obtaining Social Membership, please contact the Club Manager on 01792 929290.
Social Events for 2019-20:
Fri

26th April 2019

Annual General Meeting

Sat

27st April 2019

Captains's Dinner

Sat

25th May 2019

Italian Themed Night

Wed

29th May 2019

Ladies Open Day

Sat

8th June 2019

Captain & Vice Captain's Day

Thurs

20th June 2019

Ladies Ascot Day

Sat

29th June 2019

Summer BBQ

Fri

26th July 2019

Oriental Themed Evening 

Tues

30th July 2019

Lady Captain's Day

Sat

21st September 2019

TBA

Wed

25th September 2019

Ladies Charity Coffee Morning & Golf

Wed

2nd October 2019

Whist Supper

 Fri

11th October 2019

 Gentlemen's Dinner with Dennis Taylor

Tue

22nd October 2019

Ladies Annual Dinner

Thur

31st October 2019

Quiz & Curry Night

Sat

2nd November 2019

Social Function TBC

TBA

Diddly Dinner

Fri

8th November 2019

Club Prize Giving Night

Tues

 19th November 2019

Ladies AGM & Prize Giving

Sat

22nd November 2019

Past Captains' Dinner

Thur

28th November 2019

Quiz & Curry Night

Fri

6th December 2019

Senior Ladies Lunch

Sat

14th December 2019

Formal Christmas Dinner

Wed

18th December 2019

Whist Christmas Lunch

Tues

31st December 2019

New Year's Eve Party

Thur

9th January 2020

Quiz & Curry Night 

Sat

25th January 2020

Burns Night

Thur

30th January 2020

Quiz & Curry Night

Thur

27th February  2020

Quiz & Curry Night

Sat

2nd March 2020

St David's Day Dinner

Thurs
26th March 2020

Quiz & Curry Night
Quiz Nights are held on the last Thursday in the month with an 8pm start. Do come for a meal beforehand but please book in advance.
Whist – every Wednesday from the start of October through to the end of March with a break for Christmas. Start at 7.00pm.  Anyone new wishing to come, please do.  If you don't have a partner, don't worry  –  just give Hazel Perkins a call and she will sort it out for you.
Tickets for all social events are available from the Bar staff at the club.  
For all social event booking procedures and cancellations, please click here.