CAPTAIN'S QUARTERLY UPDATE
I have enjoyed a positive and eventful first three months as Captain of Clyne Golf Club.
AGM and Captain's Dinner
At the AGM on April 21st I expressed my gratitude at being given the opportunity to Captain our wonderful club. I acknowledged the great work John, Matthew, Jo, Tony and their teams do everyday to deliver an excellent on course and clubhouse experience. I also recognised the essence of a vibrant club is the work so many members put in to organising the activities of all of the teams, groups and sections that operate so successfully.
The AGM was followed on the 22nd April by the Captain's Dinner which was an entertaining evening with excellent food and sparkling entertainment from singer Dino Martini. Thank you to all of those who attended and we hope to attract more members to the evening next year when Don Prosser takes up his tenure as Captain.
Recognising two great servants of Clyne Golf Club
A small dinner was held on the 28th April to recognise the contribution of two great servants of Clyne who were stepping down, Margaret Llewellyn and Clive Aston. Margaret Llewellyn worked in the club office from 2002 and has been a long time social member. Margaret did an excellent job in ensuring the smooth running of the club and worked with a number of Managers. Thank you Margaret for your great service to Clyne.
Clive Aston has been a member and volunteer at Clyne for 56 years. He has been Vice President, twice Captain including during Clyne's centenary year and served on the Management Committee and sub Committees. Thank you to Clive for his enormous contribution to the club and on a personal note I would like to thank him for his ongoing support and encouragement.
Supporting our Teams
I particularly wanted to thank all of those members who play for our teams. I organised a Captain's Team event on the 13th May which saw players mixing up in a four ball stableford format. The best four scores from each Clyne team counted and the combined Men's First and Second team ran out the winners. A buffet and few drinks followed the golf and it was a good opportunity to thank those who turn out to represent our club. I intend to organise another team event and hope to widen participation from across all teams.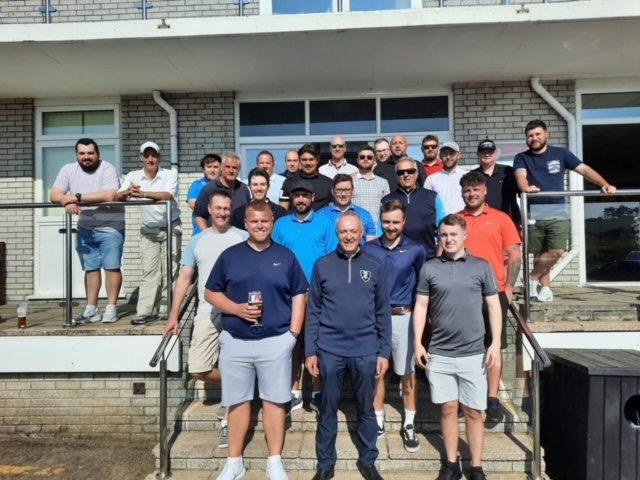 The teams have all competed well through the season. Congratulations to the Men's First Team both for winning their division and for qualifying for the Wales Team Championship that takes place in Porthmadog over the coming weekend. I am sure you will join with me in wishing them the very best of luck.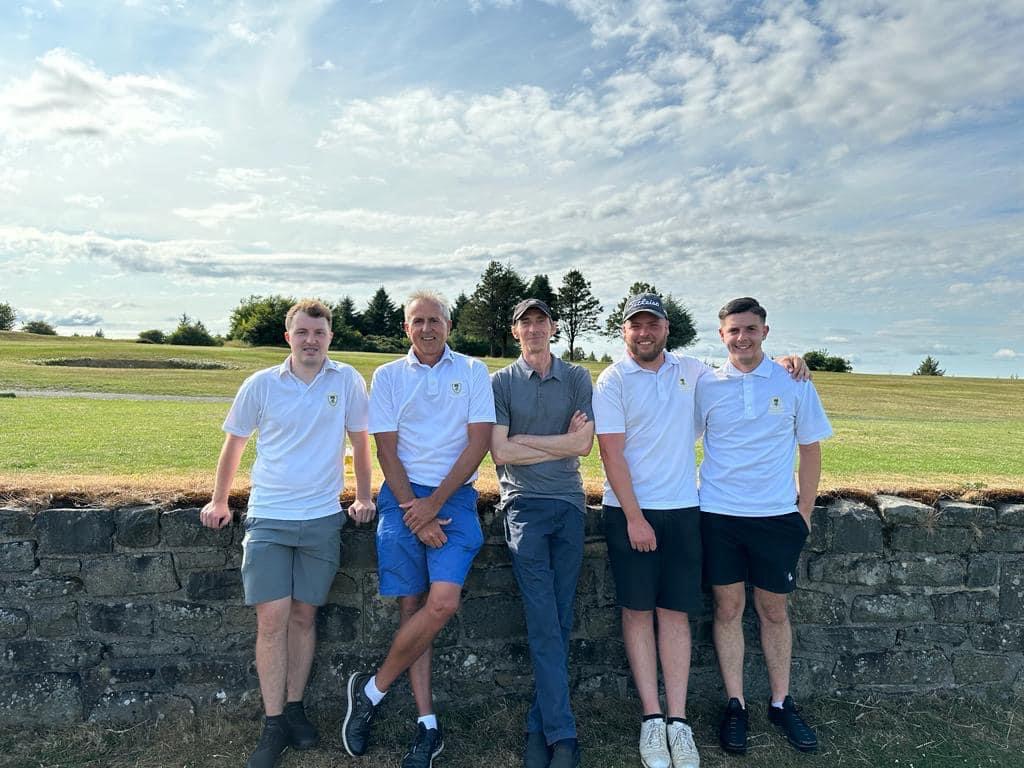 The teams are important to us all in the club and great thanks go to the captains who have the often challenging task of getting a side out. Thank you to Terry Sillman, Gareth Morgan, Gareth Goodhead, Scott Smith, Jonny Mitchell, Neil Maddern,, Kathy Clement, Caron McColll and Martin Morgan for your great work it is much appreciated. I have very much enjoyed watching some of the Men's First team's victorious season and played a couple of times for the 2nds (less said the better) and more successfully for Links a few occasions.
I went on the Clyne trip to Wexford in Ireland for a few days in May and played some excellent courses at Wexford, Bunclody Castle and Rosslare. Good company, excellent golf and lovely Guinness.
Captain's Day and Charity Day
We were very fortunate with the weather for Captain's Day on the 3rd June. It was an excellent turnout, great food and plenty of drink consumed. Jonathan Bevan won the day with 44 points pipping Josh Faulkner on count back. We managed to raise over £500 for the Captain's Charity which was excellent. Thank you to everyone who participated and to those who helped make it a success.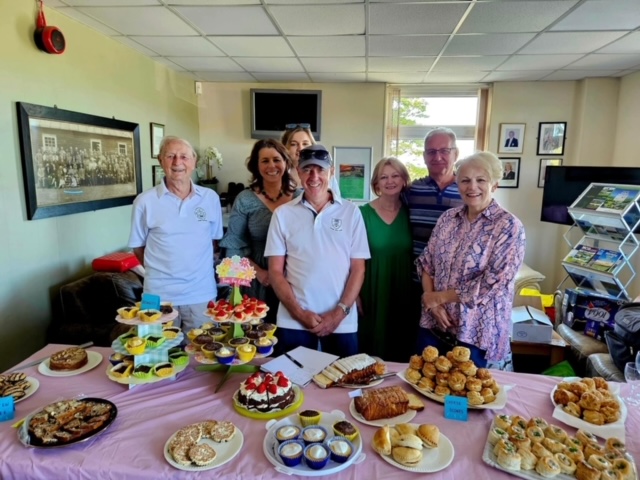 My Captain's Charity this year is a Swansea based organisation called Faith in Families which supports vulnerable children and families in disadvantaged areas. The charity works in Bonymaen, Clase and Portmead and all money raised will support their drop ins, lunch clubs, summer events, parent support and childcare in these communities.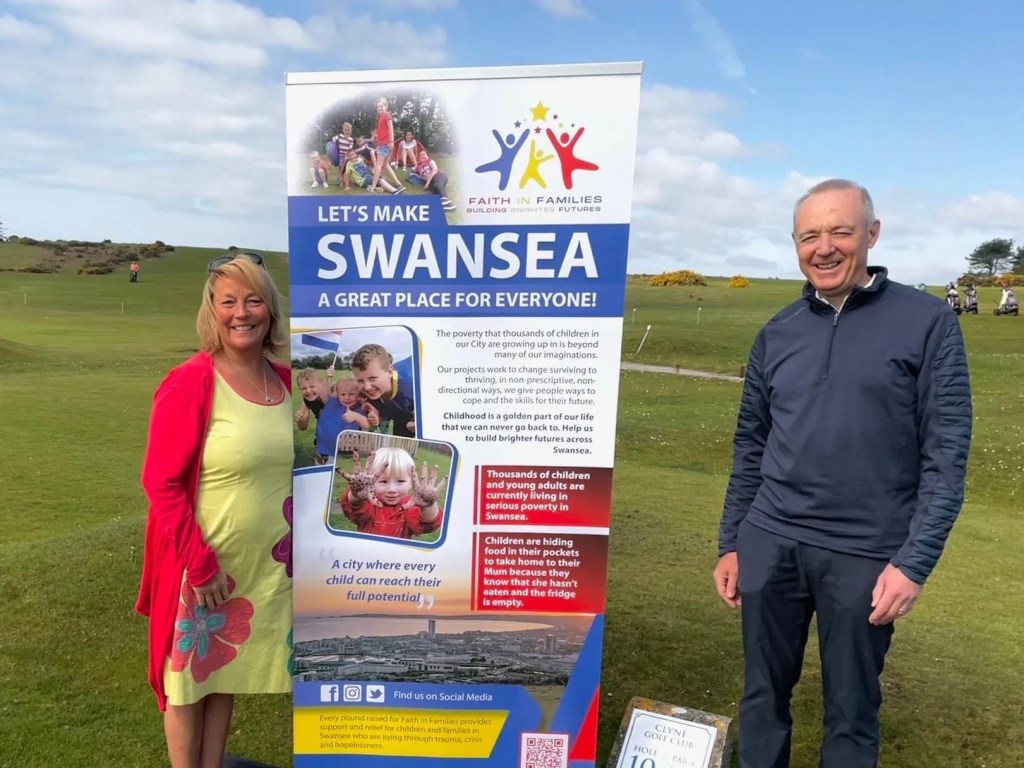 The Captain's Charity Day on the 30th June was a great success. Despite the weather 18 teams of four went out on a shotgun start. Congratulations to Kim Loosemore, Cliff Doel, Sid Kitchin and Martin Allchurch who won the day. An excellent evening of food and drink, raffle and auction resulted in £5500 being raised. Thank you to John, Jo, Matt and Tony and their teams for their enormous help. Also to all of those who so generously donated prizes or bought raffle tickets or items in the auction. The money raised will make a big difference to the lives of people in Swansea.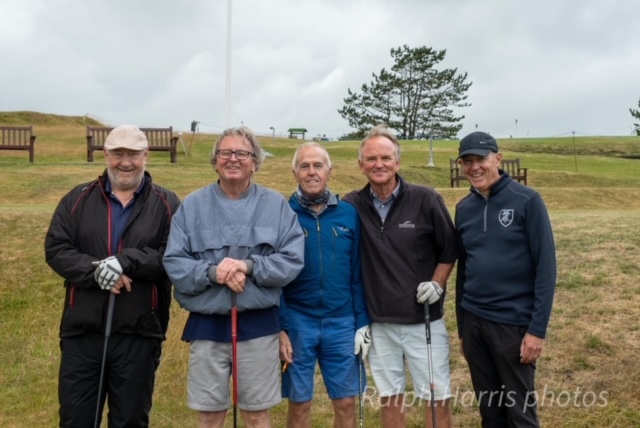 Seniors Open
A number of Clyne members volunteered in July at the Seniors Open at Royal Porthcawl. I enjoyed my three days but must show my admiration to those members who endured the final day in atrocious conditions. It certainly made for fascinating viewing as such talented golfers grappled with the weather and the course.
Events
This coming weekend sees the Professional's Day Stableford followed by a Pop Music Quiz in the club. Matthew is raising money for Tommy's so all support is appreciated.
A number of Clyne Social Events have taken place already this year and there are more to come with a Freddie Mercury Tribute Night on the 23rd September, Italian Dining Evening on the 11th November, Christmas Party Dinner with Neil Diamond tribute on the 2nd December and the Children's Christmas Party on the 3rd December. Sky Sports has been installed in the bar and lounge so lots of great sporting events to enjoy in the weeks ahead including Wales winning the rugby World Cup.
Governance and Communication
In my time as Vice Captain and now Captain I have worked with the Management Committee on a review of governance. We have looked at our arrangements against best practice as set out by Wales Golf. There are many positives about how the club is run and we have not sought to make changes where they are not necessary. We have however identified areas for improvement in relation to contingency planning, succession, induction of members, management of staff, risk management and communication.
We have sought to improve how we engage with and communicate with members. Don Prosser, Vice Captain initiated the Clyne Captain's Update which Nick Parry puts together and sends out each month. In the last edition we offered members the opportunity to contact me through clynegolf1921@gmail.com with any questions or observations and I will be happy to respond. I look forward to hearing from members or talking to you directly in the weeks and months ahead.
Happy golfing!
Richard