A golf club in Swansea that once had a "men only bar" has just voted in its first ever female Vice-President and has been recognised by the sport's governing body for its work in becoming totally inclusive.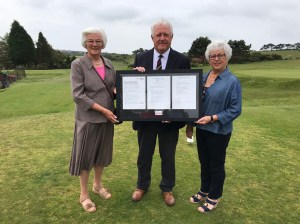 Clyne Golf Club has been awarded The Women in Golf Charter by the R&A.
It recognises a commitment to be fully inclusive and to support women and girls to enjoy the game and reach their full potential at all levels of the sport.
This year former club captain Hazel Perkins was voted Clyne's first ever female Vice-President and she has worked with the Ladies' Section and Management Committee on implementing the charter at the club.
Hazel said: "Signing up for the charter has helped us to build and expand on the good work that has been taking place at Clyne for many years now.
"I remember when the bar was "men only" and ladies stayed in the lounge but those days are long gone.
"When I first joined the club back in the 1970s the club was run by men.
"In 2021 we will be celebrating our centenary and as we approach this milestone we have had two female club captains, for a long time we have had women on the management committee and I was honoured and humbled to be elected as a Vice-President."
In awarding the charter the R&A commended Clyne on the way it has implemented its aims and asked permission to share it as a template for other clubs in the UK.
Hazel said key to Clyne's success has been a desire to make golf as accessible as possible to women of all ages.
"With support from Wales Golf our head professional Matthew Hollis has been holding beginners' courses and taster days for women of all ages and these are proving very popular," added Hazel.
"We are a very friendly and inclusive club so if there are any women interested in trying out the game or who once played and would like to start again then they will be made most welcome.
"Matthew also has a number of very promising girls who attend his junior classes.
"In August Clyne is hosting the Wales Under 14s and 16s Girls' Championships and I know our members are looking forward to welcoming the best young golfers in Wales to our club."
Caption: Pictured left to right are Clyne Golf Club Vice-President Hazel Perkins, General Manager John Hollis and Ladies' Captain Lynda Lewis.